STATEWIDE TOWING EXPERTS YOU CAN TRUST
10-4 Tow offers professional and reliable long-distance towing service that is second to none.
Our affordable services are available in, around, and to Texas and California. We will get your vehicle where you need it to be in a safe and timely manner. Friendly and helpful licensed and insured towing service provider that will tailor a solution to your towing problem.
10-4 Tow is a trusted towing service provider that has branches in different cities in California and Texas.
Each branch offers premium towing services and roadside assistance solutions through a network of licensed and certified contractors. 10-4 Tow's teams of professional towing technicians work around the clock to maintain the company's reputation as a high-quality towing and roadside assistance solutions provider.
Our great customer care starts with the first call you put into our dispatch center.
The phones are staffed 24/7, so we are always available to help you in an emergency situation or if you are interested in booking long-distance towing services. We are always happy to tailor our services to your needs. Give us a call to discuss our rates, and how we can work together.
When dispatching a tow truck to an emergency, we can give you an ETA but unlike other companies, we do not guarantee a specific arrival time. We will arrive quickly but as with all other areas of our work, careful and safe driving is a priority.
10-4 Tow's Services
10-4 Tow provides services for all types of vehicles, from small cars and motorcycles to heavy-duty trucks and we even move heavy construction equipment. We have technicians ready at all times to take care of any type of emergency tow or to provide roadside assistance solutions.
We provide: Local Towing, Motorcycle Towing, Battery Jumpstart, Flat Tire Change, Gas Delivery and Refueling, Car door unlocking, RV Towing, Semi Towing, Heavy Equipment Towing, Boat Towing, Dump Truck Towing, Limo Towing Services, Shipping Container Towing, Semi-Trailer Towing, Motor Home Towing, Heavy Machinery Towing, Towing for a Car Donatio, Light Towing, Flatbed Towing

Reliable Long Distance Towing
What do you do when you need to have a vehicle or other heavy load such as a container or heavy construction equipment moved to a destination that is out of your city? This is called long-distance towing. 10-4 Tow provides this service from its different branches.
If your car has broken down or has been involved in an accident when you are in another city and you want to take care of it in your hometown, you might consider long-distance towing.
If you need to have your vehicle moved to a different city, due to relocation or sale, we can do this for you. We also move heavy equipment from one city to another. When it comes to having any important cargo transported long distance it's important to work with a professional towing company, that has highly trained technicians, who are licensed and insured to carry out the job.
Our long-distance towing technicians have had the necessary training and are qualified to do this job. They are experienced in carrying out long distance towing and know which methods and techniques to use to make every tow more efficient.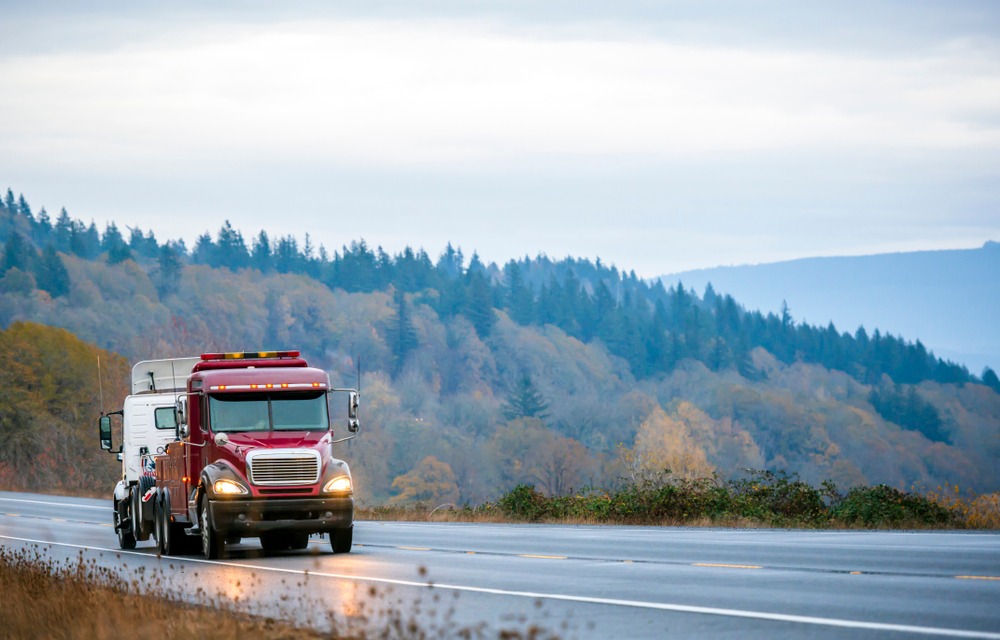 Planning for Your Long Distance Tow
Long-distance towing is not the same as emergency towing, and there is some planning involved in the process. To start off, we will speak to the customer and find out all the information we need to plan the tow and prepare a price estimate.
We need to know:
What type of vehicle/equipment will be towed
The condition of the vehicle/equipment
The destination
Your timetable – the date you want to send the cargo and when you need it to reach the destination
(The dates can affect the amount of time the tow will take– for example, the weather may slow down driving time or specific hours may mean the tow truck will be stuck in traffic)
Long-distance towing does not come without risks. And, while 10-4 Tow guarantees the safety of your vehicle, we suggest that we also talk about potential risks before the tow. Call us today to set up a meeting to discuss your long-distance towing needs.